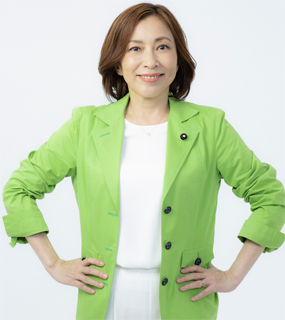 Reiko Ueda
Tokyo metropolitan assembly member
About Tokyo Metropolitan
Population:  13,480,848(2015)
Eligible voters:  10,589,228(2013)
Actual voters:  4,606,599(2013)
Voting rate:  43.50%(2013)
Diet seats: 127 (number of independent is 4)
About political career
Reiko Ueda started her political career from 2007 as a member of Edogawa Ward (Tokyo) Assembly. Though it was the first election campaign for her, she got more than 5,000 votes which meant she was elected as 6th of 44 total members.
Her second election in 2011, she won more than 12,000 votes which was the highest record in the history of Edogawa Ward Assembly election as well as the highest record of Unified Local election in Tokyo area.
She has been a member of Tokyo Metropolitan Assembly since she had won a seat for an election in July 2013.
She was born in 1965, living with her husband, two sons (one is university students and the other is high school student), father-in-law and mother-in-law.
Abaut me
Since I had been dismissed for pregnancy and childbirth, which was common in those days in Japan, I have developed an interest in politics to solve unfairness of social customs in gender.
After launching a venture entity as entrepreneur, I established a social citizen group "Edogawa Work-Mom" in 1999, which supports working persons as tax payers who have their children.
As I did not have any support from particular existing entities or organizations, my election campaign has been supported by "Edogawa Work-Mom", local volunteer groups as well as independent voters who are disappointed by existing political party. Since I had been elected as a member of assembly, I have had a belief that decentralization should be proceeded.
In terms of this belief, local politics should be different from that of national so that I founded local political party "Freedom Empowerment Association" in 2014 to achieve my goal which won 4 seats for last election at Tokyo Metropolitan Assembly in 2015.
Contact
2-11-18 Funabori, Edogawa-ku
Tokyo 134-0091 Japan
Tel&Fax:81-3-3878-9032
ueda@ueda-reiko.com
www.ueda-reiko.com